Get Access to Our FREE
Good Catch / Near Miss Campaign Toolkit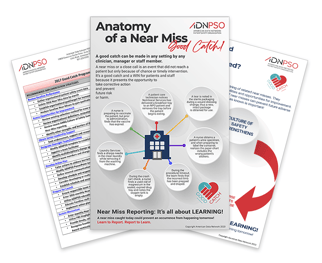 While experts consider near misses to be unmatched predictors of medical error, research shows they are markedly underreported.
ADN PSO data confirmed that notion. Near misses represented only 6.8% of all 2016 events submitted to ADN PSO, a representation significantly less than Unsafe Conditions or Incidents.
Forty-five hospitals, dispersed across the state of Arkansas, participated in ADN PSO's Good Catch campaign.
Overall, these hospitals achieved 95% of the campaign goal and saw a 47% increase in near miss reporting over baseline. Together, participating facilities reported an average of 246 more near misses per MONTH during the 2017 campaign.
This toolkit will provide you with a host of materials to run your own Good Catch Campaign.
Tool Kit Includes:
| | |
| --- | --- |
| Tips for Making the Most of Hospital Huddles (Video) | Good Catch Program: Blueprint for Success |
| Good Catch Program: Blueprint Companion Guide | Good Catch Team Charter Document |
| Good Catch Campaign References | Good Catch Frontline Staff Education Powerpoint |
| Good Catch Campaign Press Release Template | Printable Poster (8×11 and 11×17) |
| Email Signature Banner | Near Miss Infographic |
| Key to Near Miss Outcomes: Front Line Empowerment Infographic (Web Version or Poster) | Screensavers & Desktop Backgrounds |
| Website Ads | How To Use Document for Email Footer / Screensaver / Desktop Background |