Get Access to Our FREE
Good Catch / Near Miss Campaign Case Study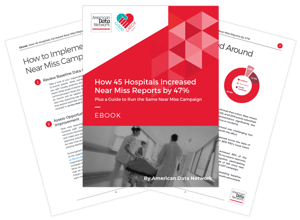 "How 45 Hospitals Increased Near Miss Reports by 47% Plus A Guide to Run the Same Near Miss Campaign"
While experts consider near misses to be unmatched predictors of medical error, research shows they are markedly underreported.
ADN PSO data confirmed that notion. Near misses represented only 6.8% of all 2016 events submitted to ADN PSO, a representation significantly less than Unsafe Conditions or Incidents.
Turning this situation around was challenging, but the results were well worth the effort.
Forty-five hospitals, dispersed across the state of Arkansas, participated in ADN PSO's Good Catch campaign.
Overall, these hospitals achieved 95% of the campaign goal and saw a 47% increase in near miss reporting over baseline. Together, participating facilities reported an average of 246 more near misses per MONTH during the 2017 campaign.
About American Data Network
Since 1994, we've made it our mission to be the company you can trust to understand your healthcare quality and patient safety needs and to develop customized solutions and services to meet them. Our clients include hospitals from all across the country, ranging in size from 10 beds to 800. Our suite of services and data applications, which are consistently updated to meet ever-changing guidelines, includes: a Core Measures & Registries Data Abstraction Service, a Core Measures Application, a Quality Assurance Communication Application for patient safety event and risk management, a Clinical Benchmarking System, and Performance Reporting System.