Get Access to Our FREE ebook
Reporting Patient Safety Events to Mitigate Risk and Injury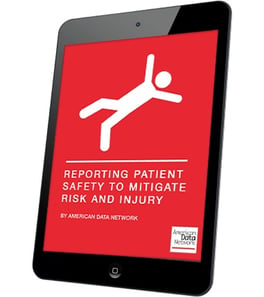 As a commitment to caring for and keeping patients safe, it is critical that we evaluate and learn from every event reported, including those where no patient harm resulted.
Leadership responsibility includes assurance that staff recognize all types of events and are supported in their reporting activities.
In this ebook, we discuss:
What staff needs to be trained on,
Examples of patient safety events and near misses, and
Leadership To-Do List
Enter your information in the form to get the ebook emailed to you.
About American Data Network
Since 1994, we've made it our mission to be the company you can trust to understand your healthcare quality and patient safety needs and to develop customized solutions and services to meet them. Our clients include hospitals from all across the country, ranging in size from 10 beds to 800. Our suite of services and data applications, which are consistently updated to meet ever-changing guidelines, includes: a Core Measures & Registries Data Abstraction Service, a Core Measures Application, a Quality Assurance Communication Application for patient safety event and risk management, a Clinical Benchmarking System, and Performance Reporting System.