Get Access to Our FREE
Good Catch / Near Miss Blueprint & Checklist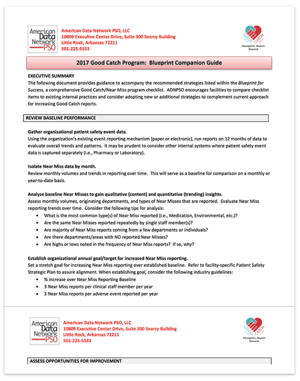 American Data Network Patient Safety organized a statewide Good Catch Campaign in Arkansas in 2017. Using this Good Catch Campaign Blueprint, along with other materials provided by ADN in the Good Catch Toolkit, 36 facilities reported nearly 10,000 Good Catches.
Some facilities even noted their Good Catches improved more than 30%.
This blueprint can be downloaded for free so your facility can continue it's work to improve patient safety and healthcare quality.
For more information about the statewide Good Catch Campaign, check out our ebook "How 45 Hospitals Increased Near Miss Reports by 47% Plus A Guide to Run the Same Near Miss Campaign."
About American Data Network
Since 1994, we've made it our mission to be the company you can trust to understand your healthcare quality and patient safety needs and to develop customized solutions and services to meet them. Our clients include hospitals from all across the country, ranging in size from 10 beds to 800. Our suite of services and data applications, which are consistently updated to meet ever-changing guidelines, includes: a Core Measures & Registries Data Abstraction Service, a Core Measures Application, a Quality Assurance Communication Application for patient safety event and risk management, a Clinical Benchmarking System, and Performance Reporting System.